Welcome to the Jamaican Travel Guides.com's Events Calendar, a pivotal resource for tourists and locals seeking to immerse themselves in Jamaica's vibrant culture and events. Our dedicated team works tirelessly to compile, update, and present the most current information on events and activities that form the heart of Jamaica's tourism scene. This page is your essential guide to discovering what's happening in Jamaica, from local festivals and cultural gatherings to major tourist attractions.
Regularly updated to reflect the dynamic nature of Jamaica's event landscape, this calendar ensures that tourists and locals have access to the latest and most exciting happenings across the island. Whether you're interested in music festivals, culinary events, or cultural celebrations, our Events Calendar is the perfect starting point for planning your Jamaican adventure.
For a more comprehensive list of events, visitors and locals can also explore the Jamaican Business & Directory, which features an extended Calendar of Events. This directory serves as an additional resource for tourists and locals to find engaging activities and experiences during their stay in Jamaica.
Event organizers looking to reach a tourist and local audience can advertise their events on the Jamaica Business & Tourism Directory. By listing your event, you can choose from various options like the complimentary Silver Listing or the more prominent Gold or Diamond Event Listings. This is an excellent opportunity to showcase your event to both local and international tourists, enhancing their travel experience and enriching the Jamaican tourism landscape. To list your event and attract a wider tourist and local audience, follow this link: [Advertise With Us].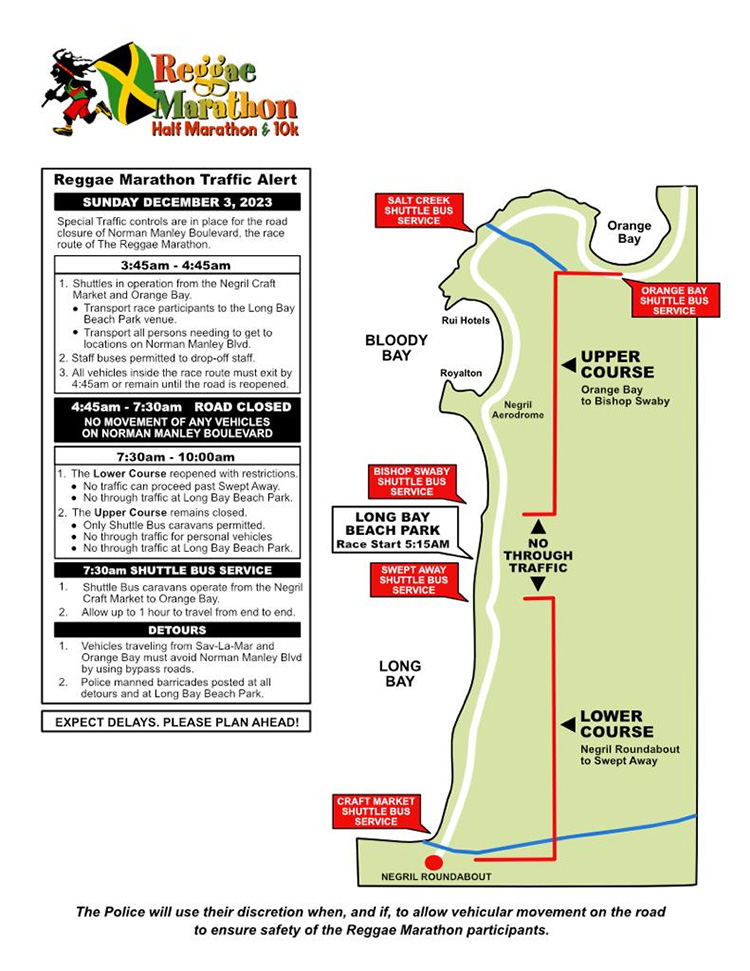 Description of "Calendar of Events" Activity:

No Info.


Address of "Calendar of Events" Activity:

No Info.


Date(s) of "Calendar of Events" Activity:

No Info.


Time(s) of "Calendar of Events" Activity:

No Info.


Is there a "Calendar of Events" Activity Fee?
Yes
No
Activity Fee: $

No Info.


For more information about "Calendar of Events" Activity - Call / E-mail:

No Info.


Reggae Marathon, Half Marathon & 10K 2023
Reggae Marathon
87-89 Tower Street
Kingston
Jamaica, West Indies



|
NegrilTravelGuide.com
|
Hanover - LuceaTravelGuide.com
|
MontegoBayTravelGuide.com
|
TrelawnyTravelGuide.com
|
OchoRiosTravelGuide.com
|
PortAntonioTravelGuide.com
|
KingstonTravelGuide.com
|
MandevilleTravelGuide.com
|
Negril Capital Of Casual
|
Jamaican Business Directory
|
Jamaican Attractions
|
Jamaican Calendar of Events
|
Jamaican Transportation
|
Jamaican Facebook Pages
|
Jamaican Facebook Groups
|
Home
|

|
About Us
|
Jamaican Business Directory Complimentary Listings & Classified Ads
|
Contact Us
|
Our Privacy Policy
|
Disclaimer
|